Dragonflies go on an underwater adventure!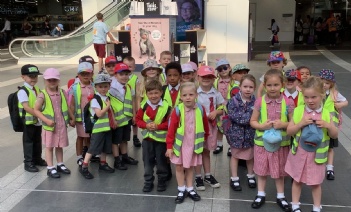 Dragonflies travelled from Tamworth to Birmingham by train to visit the Sealife Centre.
On Thursday 22nd June, Dragonflies caught the train from Tamworth Train Station to Birmingham New Street. They disembarked and walked through Grand Central before heading towards the Sealife Centre. Dragonflies stopped outside the town hall for a little rest and a snack before continuing past the Library, through the ICC building to the Sealife Centre. The children then enjoyed seeing the penguins and touching the ice wall. Dragonflies explored the different tanks looking at all the underwater sea creatures including sharks, stingrays, clown fish and a giant turtle. The children took it in turns to touch a star fish and climbed through a tunnel with piranha fish swimming around them. After lunch, the children walked through the large ocean tunnel as the fish swam all around them, and they were amazed at how big some of the sharks and sea creatures in the tank were! Dragonflies then headed back to catch the train back to school, exhausted but excited to share about their day with their families. The children were fabulous ambassadors for the school and so many members of the public commented on their impeccable behaviour. We are really proud of them and wish that the mummies and daddies could have heard some of the children's comments as they were in awe of everything! A super adventure in our last half-term together before they move on to be Herons. Well done, Dragonflies!